Best Belize Fishing Resort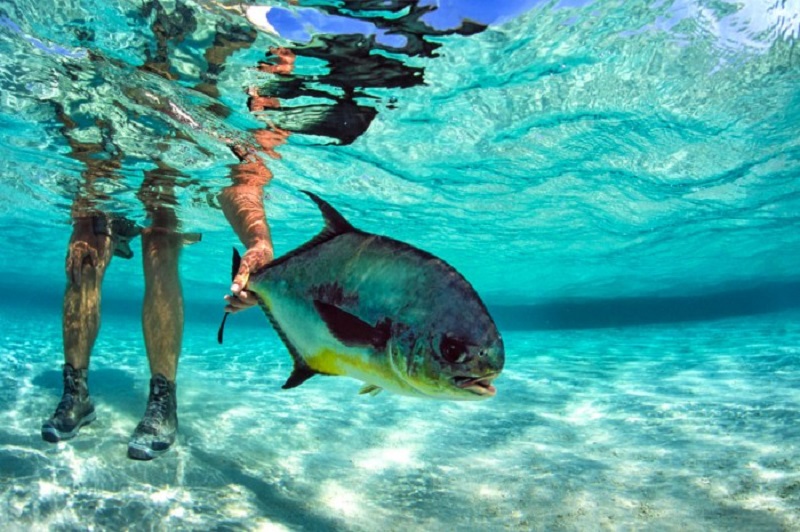 Our home is a favorite among fishermen visiting San Pedro, Ambergris Caye, Belize. Our home's beachfront location is ideal for shore fishing and we have a pier you can fish from or be picked up from.  Our partners are some of the best Belize fishing guides in San Pedro. We are known as one of the best Belize fishing resorts or best Belize fishing lodges. We would love to be considered your Belize fly fishing resorts.
Book Today

Belize fly fishing resorts
Belize Fishing Seasons
Belize Fishing – Bonefish Season
Bonefish have been the primary desire of flats' fishermen for nearly 35 years. The highly sought bonefish are here in plentiful supply year-round with no discernable season for only bonefishing. Belize bonefishing season is primarily from early April through the end of October. As you wade through the Belizean open flats, you will usually see enormous schools of bonefish, which gives an excellent opportunity for any new fishermen to educate themselves on the basics of this fantastic sport. Bonefish inhabit the beautiful flats and lagoons lined with mangroves on many of the interior Belizean Atolls. They are generally bigger and relish flies more readily than most seashore fish, while they are often on the move, which makes casting precision exceedingly compelling. Belize has quite a few seaside flats that are some of the most picturesque flats anywhere in the world. We are appreciated as one of the best Belize bonefishing resorts.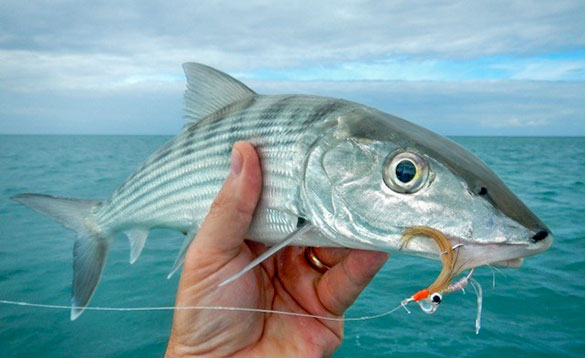 Belize Fishing – Permit Season
Permit are the principal objective of many saltwater fishermen and Belize has earned prominence as the permit center of the world. Permit are hereabouts during the entire year, albeit permit fishing manages to be more suitable when the prevailing winds are steady – habitually in the winter, spring and summer. Nevertheless, some of the best permit fishing Belize can transpire in the fall if the climate is right. Acknowledged as hunting as much as it is angling, permit provide a new test and countless sportsmen have reveled in their very first permit capture here in Belize. Permit are normally observed alone or in tiny collections on the flats and throughout the reefs and atolls, although you might also notice schools of permit in shoal waters. Permit fishing is frequently accomplished in a poled boat or in the wadeable seaside flats. Fly Fishing in Saltwater Magazine identified Belize a top 10 permit vacation destination on the planet in 2017. We are known as one of the best Belize permit fishing resorts.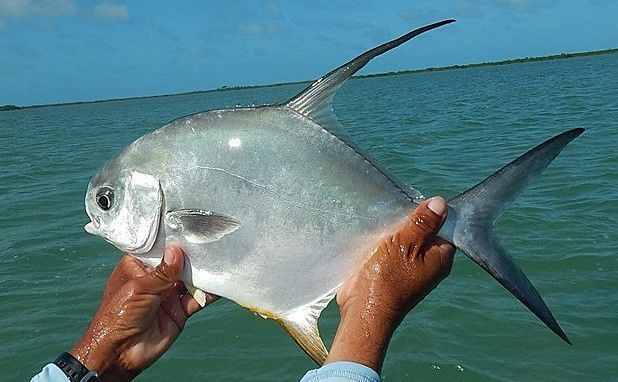 Belize Fishing – Tarpon Season
Tarpon are deemed by most to be the final trial of saltwater fly fishing. Local Tarpon can be observed year-round and Belize's tarpon season transpires from late April to early October. The best tarpon catching period is late June through early August. Tarpon occupy the creeks, channels, and lagoons with many tarpon hauled-in weighing 65-95 pounds, a few are caught the 101-160 pound range and there are even couple beasts that come in around 200 pounds. We are known as one of the best Belize tarpon fishing resorts.

Belize Fishing – Grand Slam Season
Early May through late September are viewed as the most reliable fishing months in Belize as there are substantial quantities of all three fish. Summertime heat floats in the mid-90s and there is a steady trade wind that generally makes the weather suitable.
Other Fishing
Another favorite sports fish in Belize is the snook, which can frequently be located in the mangrove creeks or in several of the atolls. Barracuda, an underrated and quite acrobatic game fish, are added popular sports fish that is found yearlong. A few daring fishermen attempt to troll a fly for their catch and can be observed casting on the flats for or might even cast poppers in any of the deeper depths in the reef. Don't forget about the local reef fish such as snapper, grouper, and jacks that are also prevalent year-around. This is frequently interesting saltwater fishing with both spinning gear or a fly rod. Wading fishermen will find snappers and jacks by casting impostor patterns or poppers within the surf of the reef. Filling several hours seeking other fish can be entertaining and often very worthwhile.
Belize Fishing Pricing (USD)
Prices include the boat ride and your tour guide.
Half Day (4 hours)  –  $350-$400
Full Day (8 hours)  –  $425-$475
Inquire Here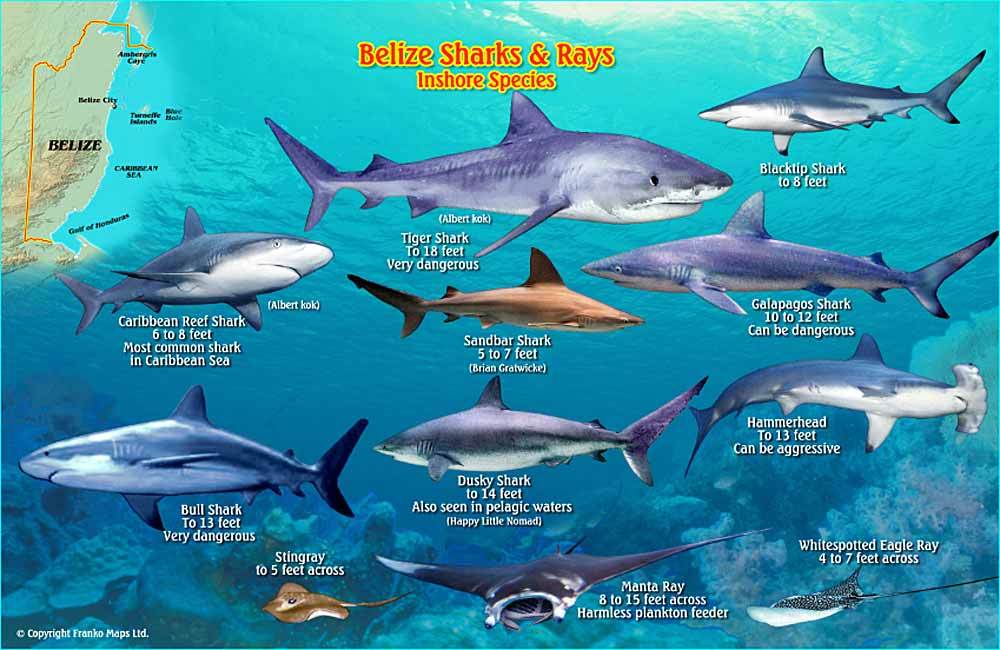 Belize Fishing License
When fishing in Belize, you will require a fishing license. Even if you're fishing from shore, you need a license. Even if you're just sitting in the boat not fishing but with someone who is fishing, you need a license. The law is being re-written to eliminate the need for a license for children or senior citizens, for fishing from shore and for everybody in a fishing boat. Purchase a license to fish online at CoastalZoneBelize.org or call 223-0719.
Belize Fishing Regulations
Your compliance with Belize's Fishery Laws will help to preserve commercial fish for generations to come. Complete Ban – Coral – Blue Tang – All Parrotfish – Permit – Surgeon Fish – Tarpon – Marine Turtle (all species) -Bone Fish – Whale Shark –  Diced Conch – All Marine Mammals –Diced Lobster Closed Seasons – Conch July 2nd to Sept 29th – Lobster February 14th to June 15th – Nassau Grouper – December 2nd to March 30 Wild Shrimp (trawler sources; farm shrimp is legal all year round) July 14 – March 14th – Hickatee May 1st to May 31st Size limits – Lobster cape length > 3 inches tail weight 2.75 oz – Conch shell length > 7 inches market clean > 2.5oz –  Nassau Grouper must be 20 – 30 inches only and landed whole (no fillet). Special Laws and Permits – All anglers must have a license. You must be a Belizean Citizen or permanent resident to obtain a fisheries permit. Sea Cucumber needs a special permit. Fish Fillet must-have skin patch left on 2 inches by 1 inch. No fishing while on SCUBA. In Marine Protected areas you may not use nets, longlines, or traps. Catch and release are essential to protect the sports fishing industry, which provides a living to many Belizeans including Belize fishing guides as well as employees at the hotel, restaurant, transportation, agriculture, communications, and other industries. The Belize Fisheries Act was originally enacted in 1948 with a minor revision in 1989 and unfortunately does not address the many complicated issues that have emerged over the last 70 years.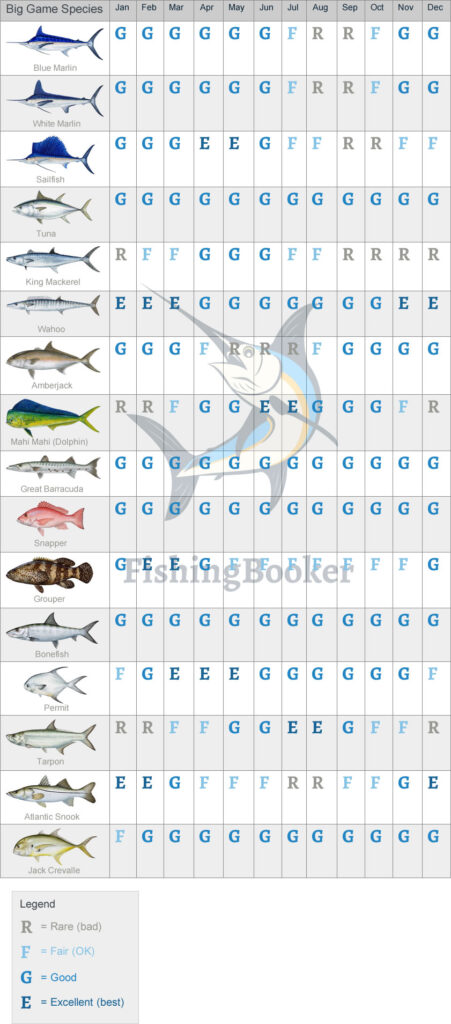 Belize Fishing –
Top Seven Reasons
1. The View
Belize's uncommon topography makes it more than just a great location to cast a line. With dense, waterfall-laden wilderness on the mainland and picturesque seashores and corals on the seaside, the views in Belize are nothing short of magnificent. The crystal-clear waters throughout the local keys are the ideal attraction for watersports enthusiasts and snorkelers of all ages. Approximately 45 miles from Belize City, SCUBA divers can experience the legendary Great Blue Hole, an enormous marine sinkhole made popular by French adventurer Jacques Cousteau.
2. Favored by Nature
As it comes to Earthly features, Belize appears to be amongst the most fortunate fisheries in the world. The principal reason for this is that it lies directly on top of the Belize Barrier Reef. This 220-mile formation is a subsection of the Mesoamerican Barrier Reef System, the second-largest coral structure on the planet!
Why should a fisherman care about a big coral configuration? Beautiful looks aside, this enormous marine wonder extends along the whole shoreline of Belize, providing both shelter and nutrients to a wide variety of smaller crustaceans and baitfish. These invite the large and the hungry of the sport fish world. The reef is residence to more than 550 varieties of fish and is the reason for the making of an awesome assortment of lagoons and flats. There are also more than 205 Cayes, positioned off the coasts of mainland Belize. Belize has lagoons! Over 5% of the whole country is covered by these seaside deltas. This provides more lagoons than you could fish in your entire lifetime.
The other blessing to Belize is its series of freshwater estuaries and rivers, each of them home to a diverse marine and freshwater sea life. The creeks discharge an unbelievable volume of nutritious biomass into the seaside, which provides a genuine feast for crustaceans and baitfish. Sportfish like Tarpon, Snapper, Snook, and Jacks are frequent guests here. If they're not feasting on the bounty of nutrients, these fish arrive at the estuaries to reproduce. Lastly, the normal temperatures range from 76°F in January to 85°F during July. There are some variations in rainfall and humidity based on the season, but you're usually only a couple of degrees from an optimal fishing moment.
3. A Fly Fisherman's Paradise
Belize possesses more than 220 miles of shoreline flats. The country is notable for its bonefishing possibilities and is swiftly earning traction as a praiseworthy Permit fishery. And if that wasn't sufficient, fishing for Tarpon is arguably amongst the best in the whole Caribbean. Snook is another natural fly fishing catch. In fact, experienced fly anglers are continually on the hunt for these guys. And if you're up for the latest fly fishing test, come and attempt your luck at a Grand Slam. To the inexperienced, that's catching Permit, Tarpon, Bonefish, and Snook all in the same day. Did you know that Belize is one of only four stops to designate this accomplishment? Here's a swift summary of some of the most famous fly-fishing localities in Belize: Ambergris Caye The westernmost bank of Belize's biggest island is filled with plentiful fishing lagoons. Bonefish, Tarpon, Permit – you list it, it's here. This site is also among the premier leisure fishing destinations. Turneffe Atoll Settled 16 miles below Belize City, Turneffe Atoll is your go-to fly fishing goal. There are lots of mangrove islands and saltwater flats hereabouts, and Tarpon and Bonefish bite like mad. Punta Gorda For the longest period, the flats nearby Punta Gorda were a regional angler's best-kept secret. The word is out now and people are coming to encounter this marvelous Permit fishery. Nevertheless, the area is mostly uninhabited, making it perfect for a tranquil fishing getaway. Permit Alley Permit Alley is more of an expanse than a "locality," but that's angling in Belize for you. Identifying a 32-mile range of flats between Dangriga and  Placencia, Permit Alley is full of Permit, as well as large Bonefish. Keep in mind that most flats in Belize have soft beds, so you'll be doing most of your fly-fishing from a craft. Depending on wherever you choose to dampen your line, you may confront anything from white earth and coral spots to eelgrass beds. Your safest play, however, will be the flats about Tarpon Caye. The ground throughout the island is compact, making it top real estate for waders. River Fishing The forest rivers and estuaries are an astonishing environment for a fly fishing experience. Sites like the Belize and Monkey River contribute impressive sport like Tarpon, Cubera Snapper, Black Snapper, and Jack Crevalle.
4. Unbelievable Deep Sea Fishing
Gratitude to the absolute quantity and scope of its flats and lagoons, most touring anglers crowd to the Belizean shore to fish. And properly so. However, this has provided Belize's deeper waters pretty much faultless. Which is a great discovery for you. Once you get beyond the gorgeous reefs, you'll be welcomed by a diversity of big game varieties that match any of the hottest deep-sea fishing stops in the Wes. You can begin trolling for Sailfish right along the drop-off, or go out a little farther and have a go at Blackfin Tuna or Marlin. The well-known offshore list of Mahi Mahi, Wahoo, and King Mackerel are all hereabouts, as well. You can discover several big game fish as deep as 660 feet, and going to the hot spots ordinarily takes no longer than 30 minutes.
5. Be a Hero
Lionfish were inadvertently imported to the region and it has endangered much of the fragile ecosystem that is the Barrier reef. This fish has no actual predators in these seas, and the experts are working their best to regularly diminish its population. How about becoming a hero and catching one? Belize is amongst the preeminent Caribbean nations in terms of conservation. Roughly a third of the whole land region is currently following some class of protection. There are several wildlife refuges serving as a sanctuary for endangered species.
6. Reef Fishing
If fly fishing happens to be too demanding for you, and you would rather not spend the whole day on the water, reef fishing is your perfect opportunity. As mentioned before, the reef draws an extensive assortment of aquatic creatures. A few of these are formidable game fish. Many places are within 30 minutes of the shoreline, so a half-day excursion will provide you ample time to catch your fill. Jacks, Snappers, Groupers, and Kingfish crowd these seas like mad, with Wahoo and  Barracudas as plentiful as in any Caribbean piscary.
7. The Cost
You are obviously thinking, "fishing in Belize is not a poor idea." Of course you are correct and since Belize has stiff fishing charter competition, you have an opportunity for a Grand Slam for as low as $299! With all your savings, you can traverse the jungle, reserve an extra night in one of the beautiful resorts, or even catch more fish!
Belize Fishing