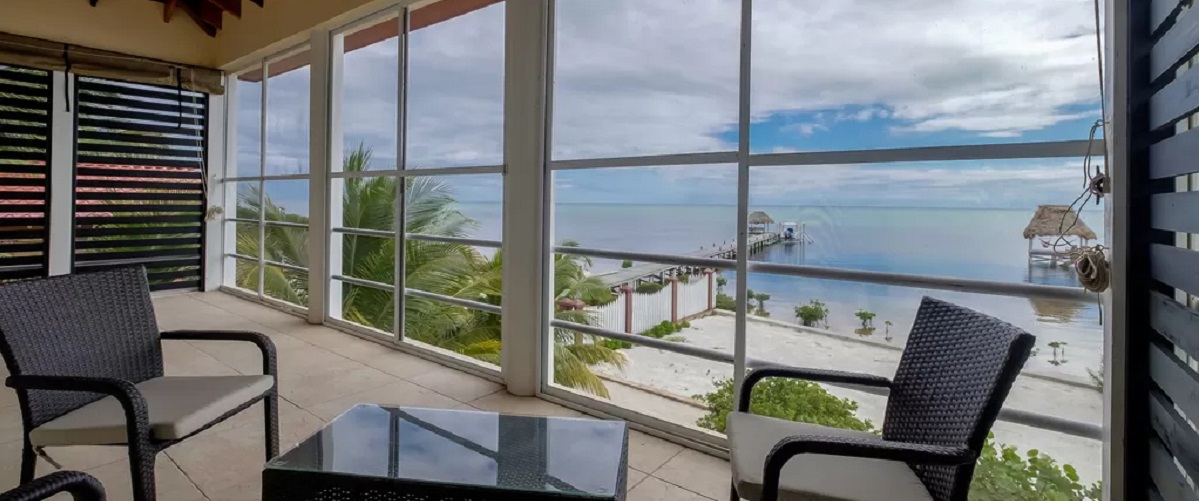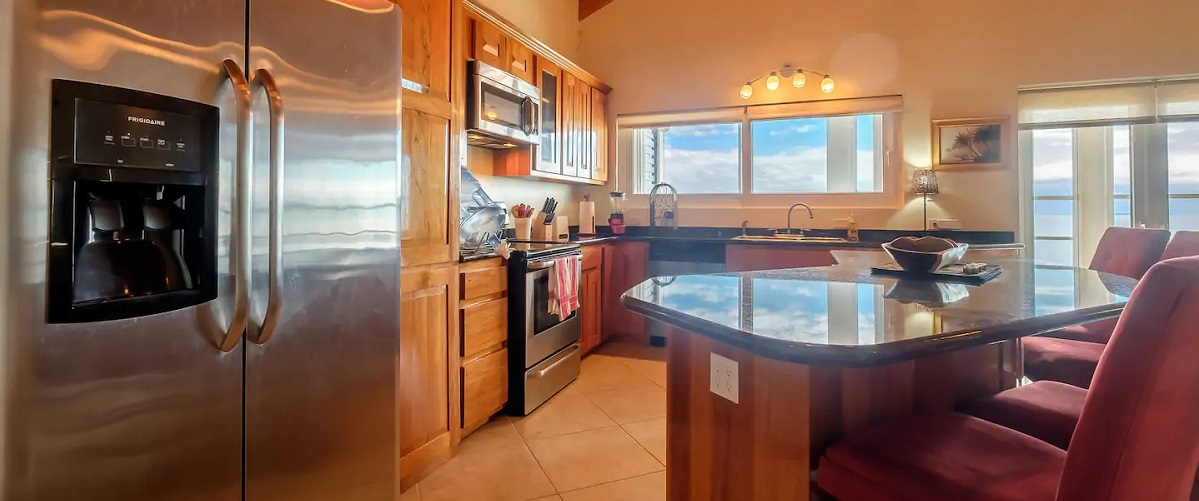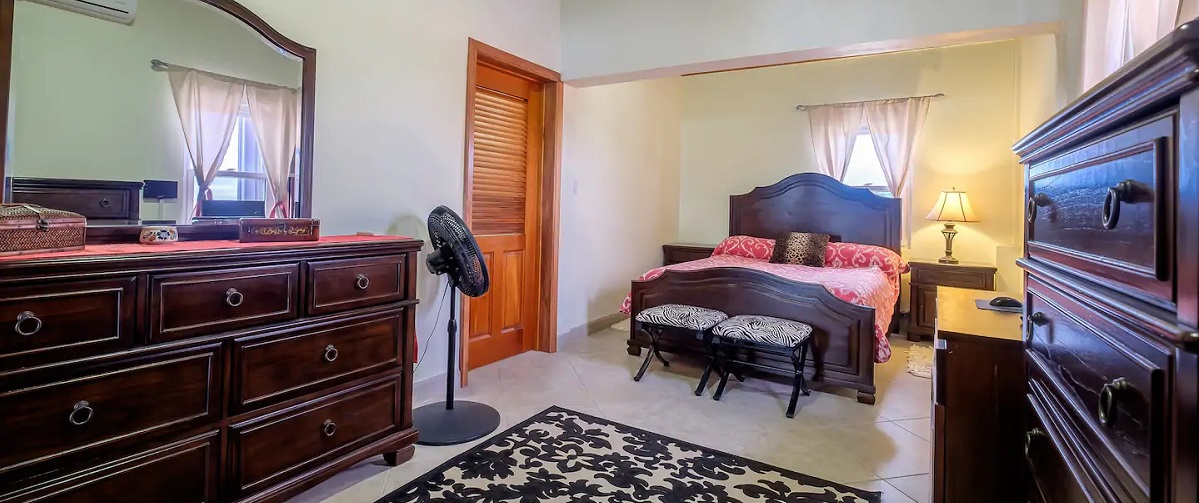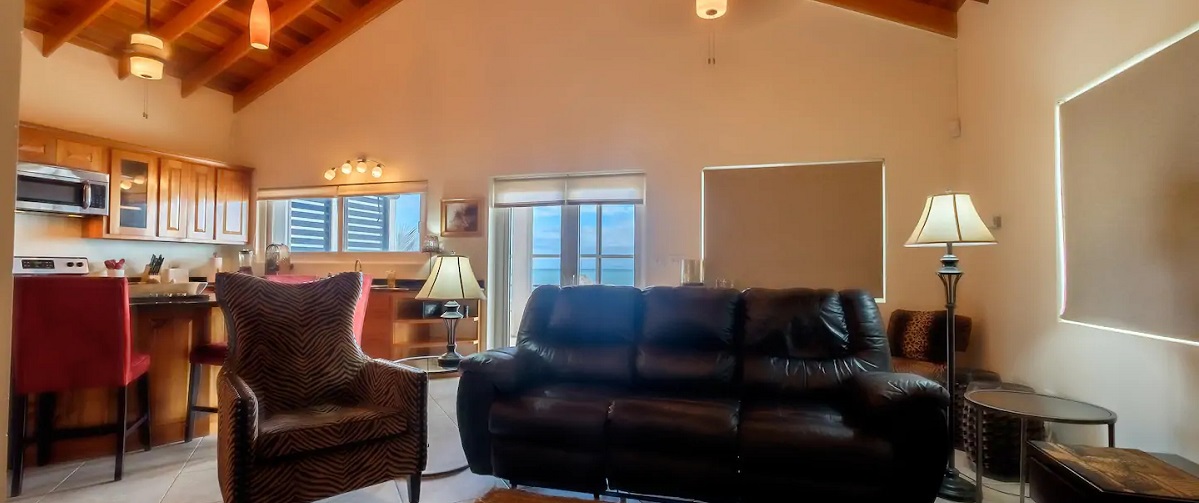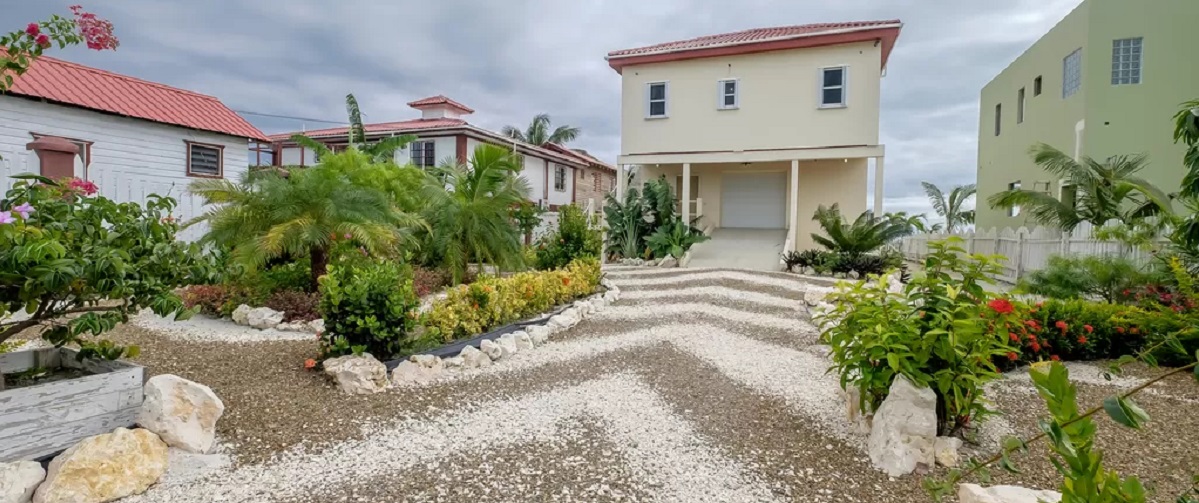 slider 1
3 Bed/3 Bath Beach Front Home with 2 Full Kitchens
slider 3
Two Completely Independent Living Spaces
slider 5
4.75 Miles South of Downtown San Pedro
La Perla Azul
Couples & Families!
Large 3 Bed/3 Bath Beach Front Home with 2 Full Kitchens
House: 2400 sq. ft.
Sleeps: 6
Bedrooms: 3
Bathrooms: 3
Min Stay: 3 nights
Book Now
[/or_row#]
COME STAY WITH US
3 Bedrooms, 3 Baths, Sleeps 6
This 3 bed/3 bath home has two completely independent living spaces, making it ideal for couples or families. The upstairs has a full kitchen, living room, two bedrooms (each with queen beds) with en suite bathrooms and a large screened-in veranda with sun shades, gas grill and patio furniture. The downstairs (not accessible from the upstairs but through a separate entrance) is apartment like with a full kitchen, living room, one bedroom with queen bed, en suite bathroom and wood deck with furniture. There is air conditioning throughout, except the downstairs bedroom, which has only a ceiling fan.
Book Now
[/or_row#]
[/or_row#]
UPSTAIRS LIVING AREA
The upstairs kitchen and living room open to each other and face east to overlook the yard and sea from expansive windows. The kitchen counters are granite and all major appliances are stainless steel. There is a breakfast bar with four stools (no dining/kitchen table). The living room has a leather sofa, side chairs and a 55" television. Access the east-facing veranda from the patio doors in the living/kitchen area. The kitchen and bathroom cabinets are made from Belizean hardwoods.
DOWNSTAIRS LIVING AREA
The downstairs offers complete privacy from the upstairs. The kitchen and living room areas also open to each other and give access to the wood deck facing the sea. Includes 2 bedrooms and 2 bathrooms and an office. It comes with an attached garage and a large veranda and beautiful landscaping. Complimentary kayaks are located just outside.
What is Included
This home rents furnished with fully-stocked kitchens, linens & towels, patio furniture, two stacked washers/dryers, and two sea kayaks. The property is fenced in on three sides with a gate on the street. The side without a fence allows access to the sea via a sea wall. The seaside yard is sandy with plants and shrubs while the street side yard is a lush garden with flowering plants and fruit trees.
About San Pedro
The town of San Pedro sits on the Caribbean island of Ambergris Caye, Belize. It is a beautiful tropical paradise, like most Caribbean islands, in a small and developing country. Although most areas on the island are connected to electricity, water and internet, please be aware that there are occasional interruptions in service. Planned interruptions in service are announced by the local utility companies, and we strive to inform our guests as quickly as we are notified. When interruptions occur that are unplanned, the locals go about making the most of their day until service is restored.
[/or_row#]
Contact us today With Any Questions About Our Home or Belize
La Perla Azul - 4.75 Miles South of Downtown San Pedro
[/or_row#]
Address
4.75 Miles South of downtown San Pedro
Phone
501-628-9564 BZ or 303-520-4309 US
[/or_row#]